×
CONTACT OX

TO LEARN MORE
Give us a call at 800-345-8881 or fill out the form below
and we'll get back to you within two business days.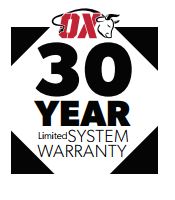 Our OX-IS structural insulation is now backed by a 30-year Limited System Warranty. In order to comply with the warranty the user must follow our new OX-IS Installation Instructions and use our new OX Seam Tape and Arctic Flash Flashing Tape on all seams and openings. Highlights of this new warranty include:
OX-IS™ will maintain its R-Value within 10% of its stated value

Shall perform as a WRB (Water Resistive Barrier)

Shall perform as an Air Barrier
Additional product warranties and installation instructions are being developed and will be available in the coming months.