×
CONTACT OX

TO LEARN MORE
Give us a call at 800-345-8881 or fill out the form below
and we'll get back to you within two business days.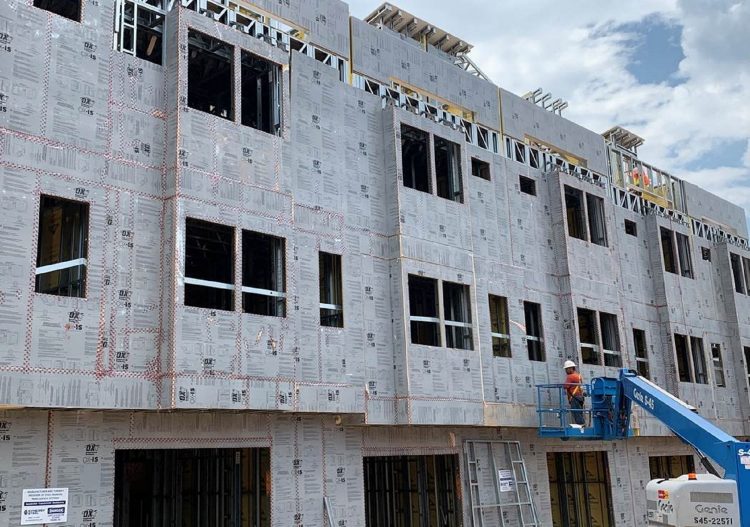 Innovation, Performance, and Commitment
Ox Provides Builders a Solution for Each Layer of Exterior Wall Construction
Home building is most certainly a balancing act. How do builders control costs and adhere to strict timelines so they can deliver on time and on budget?
For reputable builders, cutting corners is not an option to achieve these objectives. Their reputation – and their business – are on the line with every home that is built and every neighborhood that is completed.
That means every product selection is critical, because it has direct bearing on the bottom line.
Durability and longevity are a must, because once the project is complete, the builder's name is forever tied to the project.
Building owners and homeowners share this same criteria with builders as it relates to the finished product. Cost-effective materials might mean a lower overall purchasing price for them, allowing them to have the home or building they want completed within their allocated budget. At the same time, less expensive products that do not deliver on long-term performance lead to ongoing maintenance and repairs even after only a year or two. That means headaches for the owner and callbacks for the builder.
Ox Engineered Products has developed solutions for all project types, giving builders plenty of options regardless of project cost, climate, or building code requirements
HomeGuard® Housewrap and TITAN® Drainage Wrap
A home is only as strong as the construction materials used to build it, and those materials are only effective when properly protected from the elements.
HomeGuard® by Ox is a woven housewrap designed to provide optimum air and water resistance, vapor permeability, and long-lasting durability. Used as a secondary weather-resistive barrier, HomeGuard is a woven, polyolefin material featuring micro-perforations designed to allow damaging water vapor to escape the wall cavity while simultaneously shedding bulk water.
Another option is Ox's TITAN® Drainage Wrap. This advanced non-woven, non-perforated material provides superior drainage performance while exceeding the most stringent criteria set forth for a building's thermal envelope. For builders using OSB as the structural sheathing, TITAN effectively keeps moisture out to significantly reduce the potential for rot or decay within the building envelope.
For builders opting not to select one of Ox's more integrated solutions, TITAN drainage wrap is an excellent addition to the wall system. It minimizes air intrusion and maximizes thermal efficiency, a high-performance addition to the building envelope.
ThermoPLY® Structural Sheathing
Searching for a more integrated solution, but in a climate that doesn't have as stringent of insulation requirements or for a project already utilizing a separate form of insulation?
ThermoPLY® is a structural sheathing solution that, when compared to traditional OSB, simply outperforms it at every turn. ThermoPLY is an integrated solution that includes three components:
High-strength, cellulosic fiber core to provide structural strength, shear resistance, and durability.
Protective polymer layer applied to the exterior facing surface.
Water-resistive coating applied to both the front and the back, replacing the need to install an additional layer of housewrap.
ThermoPLY has comparable shear values to a 7/16" sheet of OSB, making it an excellent sheathing alternative. It is also lighter and more affordable than OSB, especially when the current lumber price hikes caused by the COVID-19 pandemic are taken into consideration.
In the event of water or moisture infiltration, ThermoPLY's composition does not provide a food source for mold, whereas the wood in traditional OSB does.
For builders who have already selected sprayfoam insulation, a separate continuous insulation layer, or traditional batt insulation and don't need a fully integrated structural insulation material, ThermoPLY is an excellent choice – one that far outweighs traditional OSB.
OX-IS™ Structural Insulated Sheathing
An integrated building materials solution that addresses multiple requirements in a single product delivers value across the board – in reducing complexity, and in time savings when it comes to installation.
OX-IS™, Ox's 4-in-1 structural insulated sheathing, allows builders to meet building code requirements for:
Structural sheathing
Continuous insulation
Air barrier performance
Water-resistive barrier performance
That delivers four layers of protection in a single product that, depending on the R-value needed, ranges from just 0.5 inches (R-value of 3) to 1.70 inches (R-value of 10) in thickness.
OX-IS a lightweight, durable wall solution that prevents builders from having to construct thick, heavy, expensive walls to meet code. With OX-IS, builders can use 2×4 framing and still achieve a high R-value.
Combining four components into one integrated product is a prime example of how Ox can simplify the construction process.
Using OX-IS, jobsite timelines can be significantly reduced. The product can be installed in one day, whereas traditional methods of homebuilding require one day to install OSB over the studs, a second day to install a weather-resistive barrier, and a third day to install a layer of continuous insulation. Builders can make one pass around the structure once framing is in place to install OX-IS. Then, it is ready for exterior finishing such as stone, stucco, brick, or siding.
When installed outboard the studs, OX-IS directly benefits homeowners, because it can reduce heating and cooling costs by eliminating thermal bridging through the framing materials. During the summer months, for example, eliminating thermal bridging helps to keep cool air inside and hot air out, resulting in a more energy-efficient house over the life of the structure.
Choosing Wisely
Building materials manufacturers that believe in continuous improvement are constantly innovating and thinking about what is next. They're not satisfied with the "here and now" but seek to push the envelope, finding ways to remove complexity, enhance performance, decrease timelines and ultimately drive cost savings.
All Ox Engineered Products have a well-deserved reputation for such a commitment.
What does this mean for the builder that chooses Ox's products?
It means they can rely on Ox Engineered Products to provide the best-performing, fully integrated, multi-functional, and cost-competitive products on the market with an eye on the present and the future.
Ready to get started? Find a store near you that carries high-performance Ox products today: https://www.oxengineeredproducts.com/store-locator/