×
CONTACT OX

TO LEARN MORE
Give us a call at 800-345-8881 or fill out the form below
and we'll get back to you within two business days.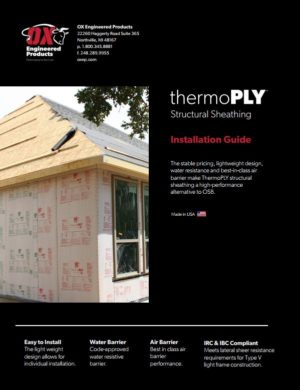 Our ThermoPly structural sheathing is now backed by a 30-year Limited System Warranty. ThermoPly is a stable priced, lightweight alternative to OSB, which provides the builder with same structural shear values as a 7/16″ sheet of OSB or Plywood. With a built in water and air barrier it only takes one trip around the house to install saving a builder time and money in the installation process.
In order to comply with the warranty the user must follow our new ThermoPly Installation Instructions and use our new OX Seam Tape and Arctic Flash Flashing Tape on all seams and openings. 
System is defined as:
ThermoPly Structural Sheathing (Grades Red, Green and Blue)
ThermoPly AMG Structural Sheathing (Grades Red, Green and Blue)
Ox 2 7/8″ Seam Tape
Ox Arctic Flash Synthetic Flashing Tape
Warranty Coverage Includes:
Shall perform as a WRB (Water Resistive Barrier)
Shall perform as an Air Barrier