×
CONTACT OX

TO LEARN MORE
Give us a call at 800-345-8881 or fill out the form below
and we'll get back to you within two business days.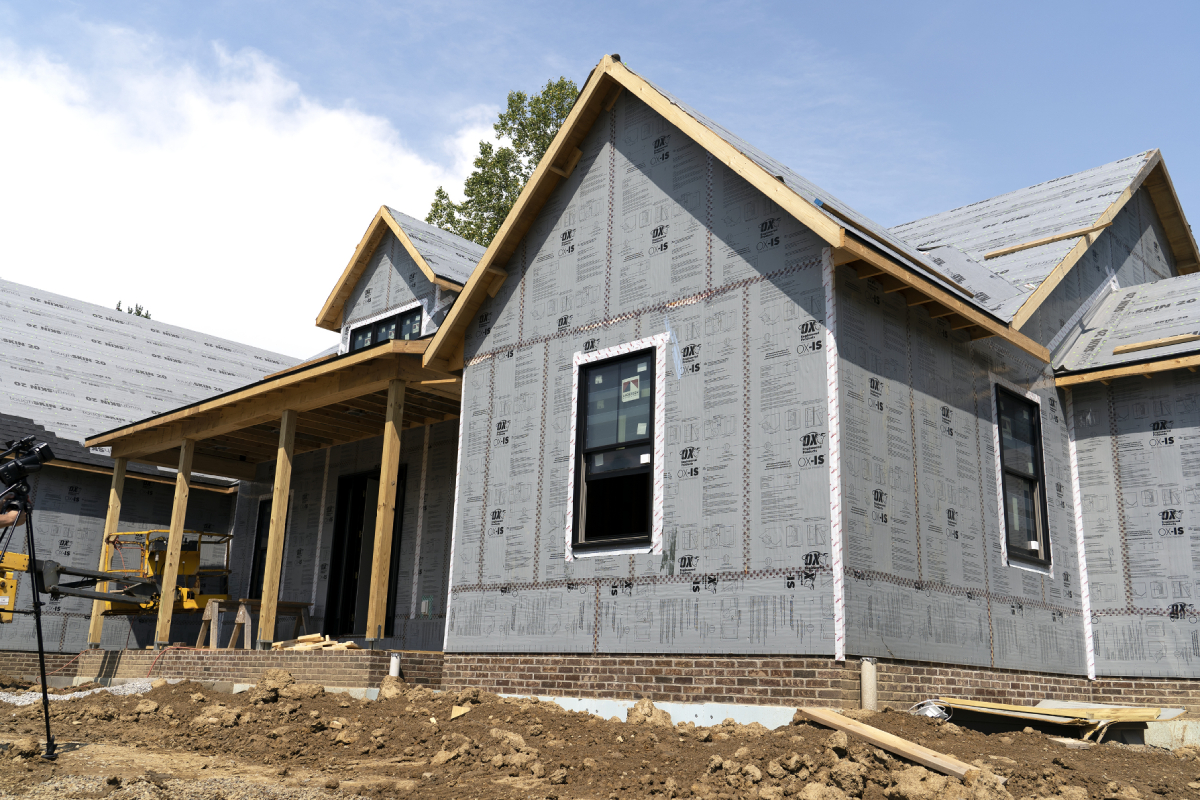 A Nashville Builder's Firsthand Account of Leaving OSB Behind
For contractors and builders, discovering building materials that strike the perfect balance of performance, cost, ease of installation – and lately – product availability, is an ongoing endeavor. Building materials manufacturers who can find that sweet spot will quickly see long-term customer satisfaction coming into focus. As a manufacturer, remaining true to your core values, committed to your customers, and fixed on creating high-performance products can go a long way for those choosing you for their construction jobs.
This became reality when a Nashville-based builder was seeking alternative methods to structural sheathing for the custom homes he and his crew were building. Focused primarily in East Nashville, Michael Craddock and his son, Michael Jr., discovered Ox Engineered Products on social media as a viable alternative. Since that day, they have never looked back.
The Price Was Right
When lumber prices were sky high at the peak of the pandemic-related material shortages, Craddock came across another builder on Instagram recommending the use of OX-IS structural continuous insulation. The Craddocks' willingness to try new materials has allowed their company to become a leading infill home builder in Nashville. In the case of OX-IS, this paid off. The product has delivered significant cost savings as well as performance enhancements to the homes he is building. When compared to his previous sheathing methods using traditional OSB with housewrap, the benefits are evident.
"The more we use OX-IS, the better we like it. It is stable in price, and performance-wise, it does a lot of things that OSB does not," explained Craddock. "Best of all, it saves us about $3,000 to $3,500 per house compared to using OSB and housewrap."
Craddock explained that the total lumber package for the houses that he and his crew were building increased from approximately $45,000 up to between $60,000 and $70,000 depending on the size of the home.
"The increase in lumber prices forced us to try and cut costs without compromising quality. With OX-IS, the quality is better and the cost is less," added Craddock. "I would change lumber companies today if my current supplier stopped offering OX-IS."
Navigating Nashville Building Codes
In March 2021, a handful of Tennessee counties adopted new residential building codes set by the International Energy Conservation Code (IECC). The move was from the IECC's 2012 standards to the code's 2018 benchmarks, which requires all residential construction to meet a minimum insulating R-value of R-20. With structural continuous insulation such as OX-IS, this is a much easier target to hit for Nashville builders.
OX-IS is offered in three thicknesses (0.5˝, 1˝, and 1.70˝) that each equate to different thermal R-values ranging from R-3 to R-10.
In order to meet the required R-20 in Nashville, Craddock's team uses 1˝ OX-IS (R-6) and blow-in cellulose insulation (R-13.75). OX-IS is a continuous insulation product with no thermal breaks, so an additional R-2 is added. This means that homes built by M Squared Homebuilders are actually surpassing the R-value requirement by choosing OX-IS.
Using OX-IS on one of their recent builds, M Squared Homebuilders conducted a blower door test, which is used to determine how much air is entering or escaping the home. The results were in the top 1%. The home scored an ACH50 rating of 2.54. For comparison, an ACH50 rating between 5.0 and 10.0 is a moderate rating – not airtight but not leaky either. Anything less than 5.0 equates to a tight house, and OX-IS helped Craddock achieve an impressive 2.54.
Sold!
Demand for new housing remains high, and Craddock noted that high-quality homes sell quickly in the Nashville area
"People line up to buy houses here. We are committed to building the best homes we can build, and Ox is helping us do that right now," added Craddock. "It is really rewarding to find a product like OX-IS that is code-compliant, eliminates thermal break, and doesn't cost an arm and a leg."
Choosing OX-IS helps Craddock and his team meet some of the most stringent building code requirements in the country, but the product also eases the burden for his framing crew. Craddock explained that typically construction crews will build a wall on the ground and stand it up. However, the wall becomes much too heavy to lift and stand in place if OSB is installed while the framing is still on the ground.
"OX-IS makes installation easier, too. Now we can build the framing for a wall, put the product on, and stand it right up," said Craddock.
Craddock concluded by reiterating how passionate he is about using OX-IS as opposed to OSB moving forward.
"I don't care if at some point OSB becomes half the price of OX-IS," Craddock reflected. "We are not going back to it. We are absolutely sold on OX-IS."