×
CONTACT OX

TO LEARN MORE
Give us a call at 800-345-8881 or fill out the form below
and we'll get back to you within two business days.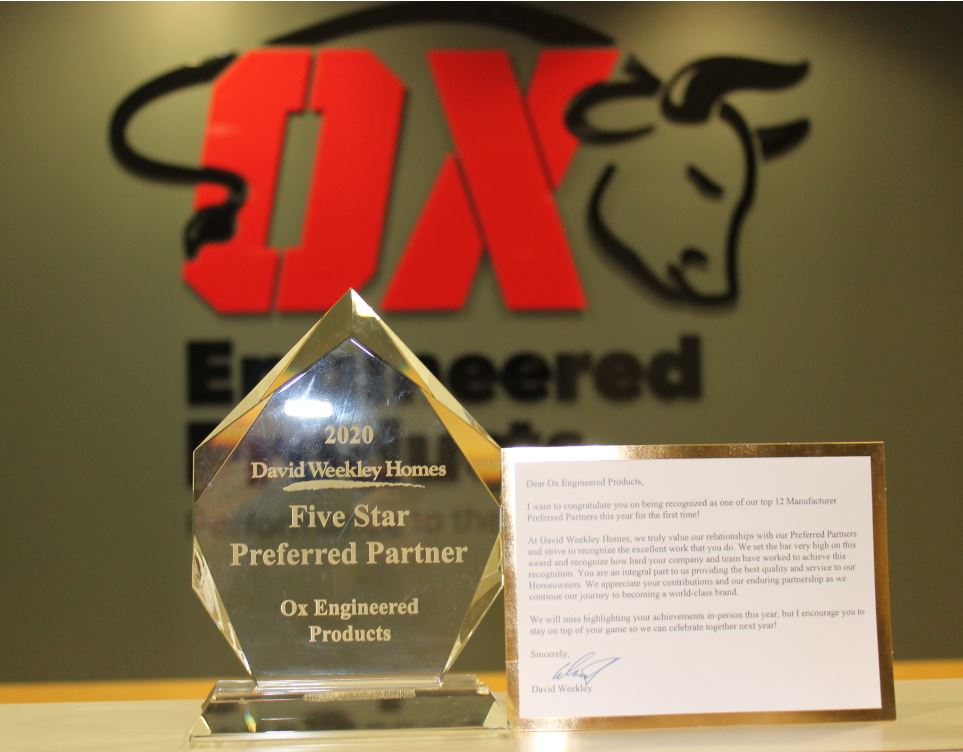 Ox Engineered Products, the innovative manufacturer of structural sheathing, structural insulated sheathing, House Warp and Roof Underlayment, is pleased to announce that it was one of the winners of the David Weekly Homes 16th annual National Preferred Partner of Choice Award. The award recognizes field and manufacturing partners that have consistently operated at world-class levels, as determined by the home builder's supplier evaluation platform. This comprehensive process, anchored by the National Preferred Trading Partner Survey, evaluates companies in the areas of quality and customer service.
The National Preferred Trading Partner Survey format was updated in 2020 to a system of two questions with a 1-to-5 rating system for partners and is sent to David Weekley Homes team members that are currently doing business with them in their market. When the Preferred Partners receive their quarterly results, they are shown how they rank amongst National Preferred Partners in their industry as well as the contact information for each David Weekley Homes team member who completed an evaluation for them.
The evaluation process involves a comprehensive system of feedback and discussion that enables David Weekley Homes to measure world-class excellence among all established trade partners and their channel partners. Providers that receive the highest scores throughout the year are presented with the prestigious National Preferred Partners Award.
 "We could not be prouder for being recognized as a David Weekly Homes National Preferred Partner, it really reinforces everything we strive to be as a manufacturing partner" said Todd Gluski, Director of Marketing for Ox Engineered Products
Every year, David Weekley Homes recognizes the preferred partners that have gone above and beyond throughout the previous year. "Ox Engineered Products understands the challenges of our industry and is able to find solutions that continue to offer world-class performance, which is an essential part of being a National Preferred Partner." said John Schiegg, Vice President of Supply Chain Services for David Weekley Homes.