×
CONTACT OX

TO LEARN MORE
Give us a call at 800-345-8881 or fill out the form below
and we'll get back to you within two business days.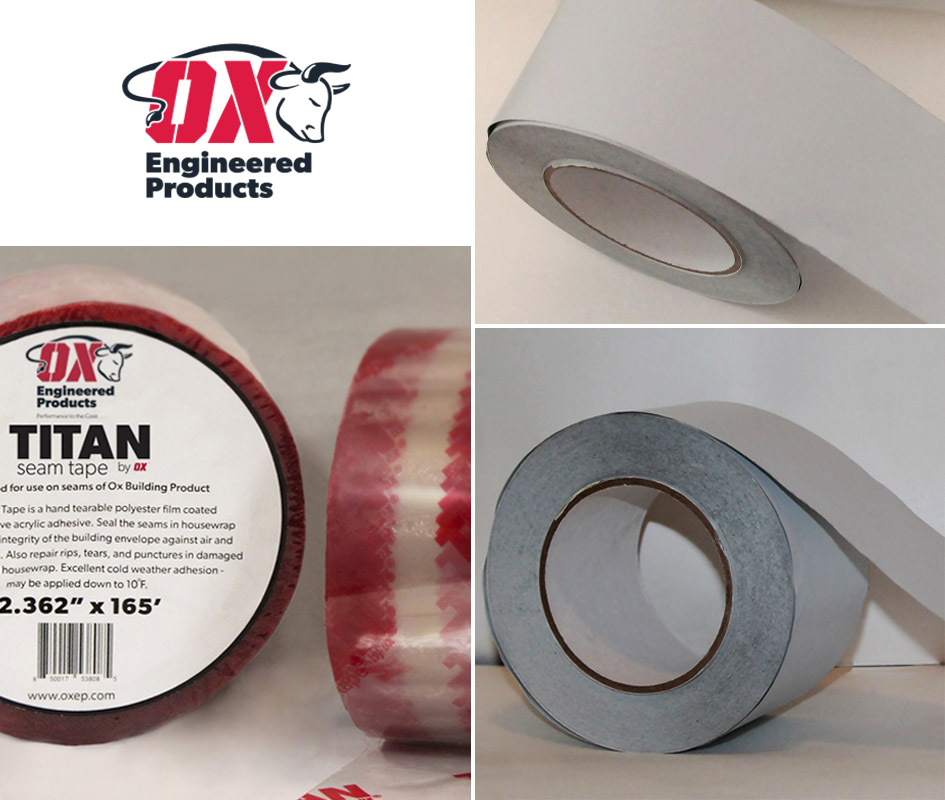 NORTHVILLE, MI (November 3, 2022) – OX Engineered Products, manufacturer of industry-leading structural sheathing and thermal insulation products, is introducing three new seam tape accessory products:
· isoRED GF Seam Tape
· isoRED WF Seam Tape
· Titan Seam Tape
"Sheathing and house wrap products are only as strong and effective as the tapes that seal their seams," said Todd Gluski, director of marketing at OX Engineered Products. "These new tapes were designed for three specific OX products, but the beauty is that builders may use them beyond those applications. They're extremely versatile."
isoRed GF Seam Tape is a foil-faced seam tape designed for use as a closure system and vapor seal on exterior sheathing products such as OX's isoRED® GF. Similarly, isoRED WF Seam Tape is foil-faced and designed as a closure system and vapor seal, but for interior products such as OX isoRED® WF. The tapes may be used across a wide range of temperatures (-4 to 104 degrees Fahrenheit) and adhere well to vapor barriers, all major house wraps, and extruded foam products. Both products are available in 2-7/8″ x 150′ rolls.
Titan Seam Tape may be used for a variety of sheathing and construction applications, specifically for OX's Titan® Drainage Wrap. Titan Seam Tape's adhesive side features a polyester film coated with a high-performance acrylic adhesive for an excellent balance of high-tack and high-peel properties. It may be applied in temperatures as low as 0 degrees Fahrenheit and is moisture-, solvent-, and UV-resistant. The product is available in a 2.362″ x 150′ roll.
"These three new tape products give builders more options when sealing the seams of OX's interior- and exterior-facing products, all while meeting or exceeding most building code requirements," added Gluski.
isoRed GF, isoRED WF, and Titan seam tapes are all currently available to customers.
For more information on OX's new seam tapes, visit: https://www.oxengineeredproducts.com/product/seam-tapes/